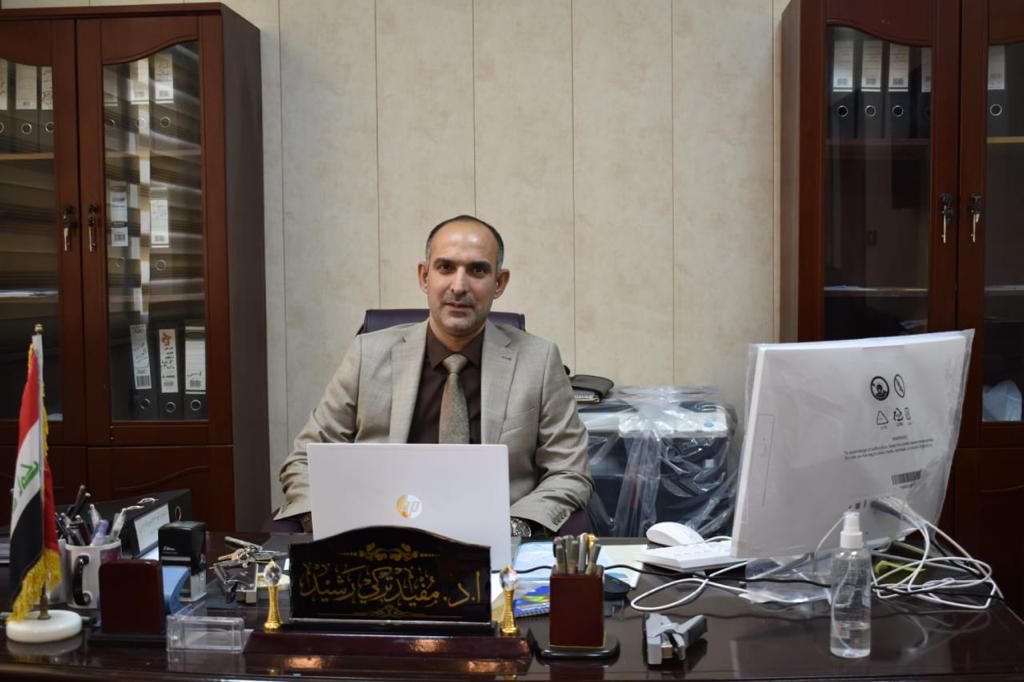 Prof. Dr Mofeed Turki Rashid



 Head of electrical engineering department
mofeed.rashid@uobasrah.edu.iq
The speech of Head of Department
In the name of Allah the Merciful
The Department of Electrical Engineering at the College of Engineering - University of Basra seeks to prepare knowledgeable engineering cadres and keep pace with scientific progress in the field of Electrical Engineering, because it has an important role in the progress and prosperity of the national industry in the service of our beloved country, Iraq.
One of the most important points that the department has worked on since its inception is the preparation of distinguished teaching staff with a high scientific level in the field of specialization by attracting distinguished professors with their academic history, as well as containing the department's graduates from distinguished students and their acceptance in graduate studies to enrich the teaching staff with a young scientific research class to harness all available energies in the field specialization and diversity of its details.
The Department of Electrical Engineering also worked to provide laboratories and physical equipment for training within the department in addition to agreements with Iraqi and foreign engineering companies to train students during their studying journey before graduation.
During the past fifty years, more than fifty batches of electrical engineers graduated and were supplemented by stations, factories and companies at the governmental and local levels as well as at the international level, where there are many graduates of the department working outside the country in international companies, universities and academic institutes. This indicates that the education policy of the Electricity Department Since its inception has had a long-term view of what the requirements of the stage need at the time and in advance.
In conclusion, I can only admit that this success that characterizes the Department of Electrical Engineering would not have been achieved without the grace of God Almighty and then the teaching staff in the department in addition to the supporting and encouraging scientific efforts represented by the University of Basra - College of Engineering.
Thanks to everyone who made an effort to improve the reality of the country and its people.
And the success from the God
Personal information

Mofeed Turky Rashid

First Name and sur Name

2-10-1976

Date of Birth

Iraq - Basrah

Place of Birth

Iraqi

Nationality

Married

Marital Status

4

Number of Children

Iraq, Basrah, Al Meethaq, St. 90, house 6

Address

Mofeed.rashid@uobasrah.edu.iq

E-mail

+964 (0) 7707347847

Telephone number

Professor

Scientific Rank

Electrical Engineering

General Specialty

Computer and Control System

precise specialization

Computer and Control System

Date of first appointment at the university

the certificates and scientific title

Country

University

title of the thesis

Certificate

Iraq

Basrah

Design Model for Wireless Multi-Mobile Robot System Based on Modeling of Collective Motion of Artemia Population

Doctorate

Iraq

Basrah

Performance of Optical Polarization Shift Keying Receivers

Master

Higher Diploma

Skills

Read, Write and Speak

Arabic

Read, Write and Speak

English

other language

training courses

Date

Duration

Place

Course Name

Posts Administrative

To

From

Career ( now)

2009

2009

Head of Communication Department (Iraq University college)

2021

2016

ISO Unit Officer

Until Now

2021

Head of Electrical engineering Department (University of Basrah)
Research Activity

1. Mofeed Turky Rashid, Raad Sami Fyath, "Performance of Double – Frequency Parameter Shift Keying (DFPSK) System in the Presence of Dichroism", Iraqi J. Electrical and Electronic Engineering, Vol.1, No.1, pp. 107-121, 2001.

2. Mofeed Turky Rashid, Raad Sami Fyath, "Effect of System Impairment on the Performance of a Polarization Shift Keying Coherent Detection System Incorporating Jones Matrix Inversion Technique", Iraqi J. Electrical and Electronic Engineering, Vol.1, No.1, pp. 122-137, 2001.

3. Mofeed Turky Rashid, Raad Sami Fyath, "Performance of Polarization Shift Keying System Incorporating Direct Detection Jones Matrix Receivers", Iraqi J. Electrical and Electronic Engineering, Vol.1, No.1, pp. 138-152, 2001.

4. M. T. Rashid and A. K. Marzook, "Expansion of Binary Hopfield Associative Memory Based on the Modified Hopfield Algorithm", Proc. of 6th Conference of Basrah for Engineering Research, 24-25 Dec. 2001.

5. A.A. Ali, L. Fortuna, M. Frasca, M.T. Rashid, and M.G. Xibilia, "Complexity in a Population of Artemia", Elsevier Journal, Chaos, Solitons & Fractals, Vol. 44, Issues 4-5, pp. 306-316, May 2011.

6. M. T. Rashid, M. Frasca, A. A. Ali, R. S. Ali, L. Fortuna, M. G. Xibilia, "Artemia Swarm Dynamics and Path Tracking", Springer Journal, Nonlinear Dynamic, 11 November 2011.

7. Mofeed Turky Rashid, Mattia Frasca, Abduladhem Abdulkareem Ali, Ramzy Salim Ali, Luigi Fortuna, Maria Gabriella Xibilia, "Nonlinear Model Identification For Artemia Population Motion", Springer Journal, Nonlinear Dynamic, 28 April 2012.

8. Mofeed Turky Rashid, Abduladhem Abdulkareem Ali, Ramzy Salim Ali, Luigi Fortuna, Mattia Frasca, Maria Gabriella Xibilia, "Wireless Underwater Mobile Robot System Based on ZigBee", IEEE, 2012 International Conference on Future Communication Networks, pp. 117-122, 2012.

9. L. Fortuna, M. Frasca, M. T. Rashid, G. Sciuto, "Modeling of Artemia Flock", Proc. of Dynamics Days Europe 2010, University of Bristol, pp. 107, 6-10 September 2010.

10. L. Fortuna, M. Frasca, M. T. Rashid, G. Sciuto, "Motion Control Of Groups Of Artemias", Proc. of Dynamics Days Europe 2010, University of Bristol, pp. 59, 6-10 September 2010.

11. L. Fortuna, M. Frasca, V. L. Gambuzza, A. F. Sarra, R. S. Ali, M. T. Rashid, "Analysis Of The Determinism Of Time-Series Extracted From Social And Biological Systems", IEEE, The 1st International Conference on Energy, Power, and Control, pp. 176-181, 2010.

12. L. Fortuna, M. Frasca, M.G. Xibilia, A. A. Ali, M. T. Rashid, "Motion Control of A Population Of Artemias", IEEE, The 1st International Conference on Energy, Power, and Control, pp. 12-15, 2010.

13. A. Buscarino, L. Fortuna, M. Frasca, G. Sciuto, M. T. Rashid, "Compensation Of Transmission Channel Effects In Chaos Synchronization", IEEE, The 1st International Conference on Energy, Power, and Control, pp. 279-283, 2010.

14. Rana H. Hussain, Ali F. Marhoon, Mofeed T. Rashid, "Wireless Monitor and Control System for Greenhouse", IJCSMC, Vol. 2, Issue. 12, pp. 69 – 87, December 2013.

15. Mofeed T. Rashid, "Design and Implementation of Wireless Electric Power Meter Based on XBee Model", Iraqi Journal for computer and informatics (IJCI), Vol. 1, No. 1, pp. 15-19, 2014.

16. Mofeed T. Rashid, Huda A. Zaki, "RSA Cryptographic Key Generation Using Fingerprint Minutiae", Iraqi Journal for computer and informatics (IJCI), Vol. 1, No. 1, pp. 66-69, 2014.

17. Mofeed Turky Rashid, "Design and Implementation of Smart Electrical Power Meter System", Iraq J. Electrical and Electronic Engineering, Vol.10, No.1, pp. 1-14, 2014.

18. Mofeed Turky Rashid, Huda Ameer Zaki, and Rana Jassim Mohammed, "Simulation of Autonomous Navigation Mobile Robot System", Journal of Engineering and Development / College of Engineering- University of Al-Mustansiriyah, Vol. 18, No.4, ISSN 1813- 7822, pp. 25-38, July 2014.

19. M. T. Rashid ,M. J. Mohammed, A. A. Ali, "Design Optimal PID Controller for Quad Rotor System", International Journal of Computer Applications(0975 – 8887), Volume 106 – No.3, pp. 15-20, November 2014.

20. Mofeed Turky Rashid, "Real Time Wireless Smart Electrical Energy Meter System", Eng. & Tech. Journal ,Vol.32, Part (A), No.11, pp. 2684-2699, 2014.

21. Mofeed T. Rashid, Mohammed J. Mohammed, Abduladhem A. Ali, "Fuzzy Petri Net Controller for Quadrotor System using Particle Swam Optimization", Iraq J. Electrical and Electronic Engineering, Vol.11, No.1 , pp. 132-144, 2015.

22. Mofeed Turky Rashid, Alaa Abdul Hussein Salman, Fadhil Rahma Tahir, "Design and Implementation Model for Linearization Sensor Characteristic by FPAA", Iraq J. Electrical and Electronic Engineering, Vol.11, No.2, pp. 165-173, 2015.

23. Mofeed Turky Rashid, "Modeling Of Self-Organization Fish School System By Neural Network System", Basrah Journal for Engineering Sciences, Vol. 15, No. 1, 2015.

24. Mofeed Turky Rashid, Huda Ameer Zeki, "Fingerprints Recognition System Based on HOG and SVM Algorithms", the proceeding of The Iraqi Economic: Features of Collapse Opportunities of Progress, Basrah, Iraq, 20-21 April / 2016.

25. Mofeed Turky Rashid, Abdulmuttalib Turky Rashid, "Design and implementation of swimming robot based on labriform model", Multidisciplinary in IT and Communication Science and Applications (AIC-MITCSA) / (IEEE), Al-Sadeq International Conference on, Baghdad, Iraq, 9-10 May 2016.

26. Mofeed Turky Rashid, Abdulmuttalib Turky Rashid, "Design and Implementation of Load Balancing System for a Smart Home", Proc. of the 3rd Int. Sci. Conf. / Southern Technical University, Basrah, Iraq, 14-15 march 2018.

27. Mofeed Turky Rashid, Abdulmuttalib Turky Rashid, and Wael H. Zayer, "Design and implementation of Locations Matching Algorithm for Multi-Object Recognition and Localization", Iraq J. Electrical and Electronic Engineering, Vol.14, No.1, pp. 10-21, 2018.

28. Mofeed Turky Rashid, Mustafa Yahya Hassan, and Ali Hassan Abdulaali, "Design and Implementation of Hybrid Arm for the Climbing Robot", International Journal of Computer Applications, Vol. 181, No. 7, pp. 40-44, August 2018.

29. Mofeed Turky Rashid, Hanadi Abbas Jaber, "HD-sEMG Gestures Recognition by SVM Classifier for Controlling Prosthesis", IRAQI JOURNAL OF COMPUTERS,COMMUNICATION AND CONTROL & SYSTEMS ENGINEERING, Vol. 19, No. 1, January 2019.

30. Mofeed Turky Rashid, Hanadi Abbas Jaber, Luigi Fortuna, "Robust hand gesture identification using envelope of HD-sEMG signal", Proceedings of the International Conference on Information and Communication Technology (ICICT '19) /ACM, Pages 203-209, Baghdad, Iraq — April 15 - 16, 2019.

31. Mofeed T. Rashid, Ammar A. Aldair, Abdulmuttalib T. Rashid, "Navigation of Mobile Robot with Polygon Obstacles Avoidance Based on Quadratic Bezier Curves", Iranian Journal of Science and Technology, Springer / Transactions of Electrical Engineering, Vol. 4, Issues 11, pp.1-15, April 27, 2019.

32. Mofeed T. Rashid, Ammar A. Aldair, Abdulmuttalib T. Rashid, "Adaptive Fuzzy Control Applied to Seven-Link Biped Robot Using Ant Colony Optimization Algorithm", Iranian Journal of Science and Technology, Springer / Transactions of Electrical Engineering, Vol. 4, Issues 12, pp.1-15, May 04, 2019.

33. Mofeed T. Rashid, Mustafa Y. Hassan, Ali H. Abdulaali, "Design and Implementation of Hybrid-Climbing Legged Robot", Iraqi Journal for Electrical And Electronic Engineering (IJEEE), Vol. 15, Issue: 1, 2019, pp. 37-46.

34. Mofeed T. Rashid, Ammar A. Aldair, Ali F. Halihal, Mastaneh Mokayef, "Design of pitch angle controller for wind turbine based on pi neurofuzzy model", Indonesian Journal of Electrical Engineering and Computer Science, Vol. 15, No. 3, 2019.

35. Mofeed T. Rashid, Farah A. Naser, "Design, modeling, and experimental validation of a concave‐shape pectoral fin of labriform‐mode swimming robot", Wiley, Engineering Reports, 05 December 2019. https://doi.org/10.1002/eng2.12082.

36. Mofeed T. Rashid, Yousif Abdulwahab Kheerallah, Ali Fadhil Marhoon, Abdulmuttalib T. Rashid, "Self-Organization of Multi-Robot System Based on External Stimuli", Iraqi Journal for Electrical and Electronic Engineering, Vol. 15, No.2, pp. 101-114, 2019.

37. Mofeed T. Rashid, Hanadi A. Jaber, and L Fortuna, "Using the Robust High Density-surface Electromyography Features for Real-Time Hand Gestures Classification", IOP Conference Series: Materials Science and Engineering, Volume 745, The Fourth Scientific Conference for Engineering and Postgraduate Research 16-17 December 2019, Baghdad, Iraq. doi:10.1088/1757-899X/745/1/012020

38. Mofeed Turky Rashid and Farah Abbas Naser, "Effect of Reynold Number and Angle of Attack on the Hydrodynamic Forces Generated from A Bionic Concave Pectoral Fins", IOP Conference Series: Materials Science and Engineering, Volume 745, The Fourth Scientific Conference for Engineering and Postgraduate Research 16-17 December 2019, Baghdad, Iraq. doi:10.1088/1757-899X/745/1/012026.

39. Mofeed T. Rashid, Abdulmuttalib T. Rashid, Ammar A. Aldair, Osama T. Rashid, "A ROBOT ARM CONTROL SYSTEM FOR AMPUTEES USING EYE GAZING TECHNIQUES", Journal of Engineering Science and Technology, Vol. 15, No. 2, pp. 905-918, 2020.

40. Mofeed Turky Rashid, Farah Abbas Naser, "The Influence of Concave Pectoral Fin Morphology in The Performance of Labriform Swimming Robot", Iraqi Journal for Electrical and Electronic Engineering, 2020. DOI: 10.37917/ijeee.16.1.7.

41. Mofeed Turky Rashid, Hanadi Abbas Jaber, Luigi Fortuna, "Interactive Real-Time Control System for The Artificial Hand", Iraqi Journal for Electrical and Electronic Engineering, 2020. DOI: 10.37917/ijeee.16.1.8.

42. Mofeed T. Rashid, Waleed I. Breesam, Khearia A. Mohamad, "Simulation Model of Cold Rolling Mill", Iraqi Journal for Electrical and Electronic Engineering, 2020. DOI: 10.37917/ijeee.16.1.9

43. Mofeed Turky Rashid, Hanadi Abbas Jaber, Luigi Fortuna, "Adaptive Myoelectric Pattern Recognition Based on Hybrid Spatial Features of HDsEMG Signals", Iranian Journal of Science and Technology, Springer / Transactions of Electrical Engineering, DOI 10.1007/s40998-020-00353-1.

44. Mofeed Turky Rashid, Basil H. Jasim, Khulood Moosa Omran, "Synchronization and tracking control of a novel 3 dimensional chaotic system", The 3rd Scientific Conference of Electrical and Electronic Engineering Researches (SCEEER) (15-16) June 2020, Basrah, Iraq. DOI: 10.37917/ijeee.sceeer.3rd.14

45. Mofeed Turky Rashid, Farah Abbas Naser, Anwer Hammadi Mjily, "Autonomous Micro-Robot Like Sperm based on Piezoelectric Actuator," 2020 International Conference on Electrical, Communication, and Computer Engineering (ICECCE), Istanbul, Turkey, 2020, pp. 1-6, doi: 10.1109/ICECCE49384.2020.9179437.

46. Mofeed Turky Rashid, Yousif Abdulwahab Kheerallah, Ali Fadhil Marhoon, Abdulmuttalib Turky Rashid, "Design and Experimental Validation of Dynamic Model of Multi Robot System," 2020 International Conference on Electrical, Communication, and Computer Engineering (ICECCE), Istanbul, Turkey, 2020, pp. 1-6, doi: 10.1109/ICECCE49384.2020.9179344.

47. Mofeed Turky Rashid, Bayadir A. Issa, Abdulmuttalib Turky Rashid, "Leader-Neighbor Algorithm For Polygon Static Formation Control," 2020 International Conference on Electrical, Communication, and Computer Engineering (ICECCE), Istanbul, Turkey, 2020, pp. 1-6, doi: 10.1109/ICECCE49384.2020.9179484.

48. Mofeed T. Rashid, Yousif Abdulwahab Kheerallah, Ali Fadhil Marhoon, Abdulmuttalib T. Rashid, "Multi Robot System Dynamics and Path Tracking", Iraqi Journal for Electrical and Electronic Engineering, Vol. 16, Issue 2, 2020. DOI: 10.37917/ijeee.16.2.8.

49. Mofeed T. Rashid, Abdulmuttalib T. Rashid, Ammar A. Aldair, "Multi-Node Localization and Identity Estimation Based Multi-Beacon Searching Algorithm", Information Technology and Control, Vol. 49, No. 4, 2020, pp. 511-529. DOI 10.5755/j01.itc.49.4.24902

50. Mofeed Turky Rashid, Hanadi Abbas Jaber, Luigi Fortuna, "Online myoelectric pattern recognition based on hybrid spatial features", Biomedical Signal Processing and Control, Vol. 66, pp. 1-11, 2021. https://doi.org/10.1016/j.bspc.2021.102482

51. Mofeed Turky Rashid, Farah Abbas Naser, "Enhancement of Labriform Swimming Robot Performance Based on Morphological Properties of Pectoral Fins", Journal of Control, Automation and Electrical Systems, 2021. https://doi.org/10.1007/s40313-021-00712-1

52. Mofeed Turky Rashid, Duaa Ahmed Ramadhan, Auday Al-Mayyahi, "Path Planning and Obstacles Avoidance in Dynamic Workspace Using Polygon Shape Tangents Algorithm", Iraqi Journal for Electrical and Electronic Engineering, Vol. 17, Issue 1, 2021. DOI: 10.37917/ijeee.17.1.16

53. Mofeed Turky Rashid, Farah Abbas Naser, "Design and Realization of Labriform Mode Swimming Robot Based on Concave Pectoral Fins", Journal of Applied Nonlinear Dynamics, Vol.10, No. 4, pp. 691-710, 2021.

54. Mofeed Turky Rashid, Farah Abbas Naser, "Implementation of Steering Process For Labriform Swimming Robot Based on Differential Drive Principle", Journal of Applied Nonlinear Dynamics, Vol.10, No. 4, pp. 737-753, 2021.

55. Mofeed Turky Rashid, Farah Abbas Naser, "Labriform Swimming Robot with Steering and Diving Capabilities", Journal of Intelligent & Robotic Systems, Vol. 103, No. 14, pp. 1-19, 2021. https://doi.org/10.1007/s10846-021-01454-7

56. Mofeed Turky Rashid, Hanadi Abbas Jaber, Luigi Fortuna, "Elicitation hybrid spatial features from HD-sEMG signals for robust classification of gestures in real-time", Australian Journal Of Electrical And Electronics Engineering, 2021. https://doi.org/10.1080/1448837X.2021.1969729

57. Mofeed Turky Rashid, Nabil Jalil Aklo, "Scheduling of Diesel Generators Operation with Restricted PCC in Microgrid", Iraqi Journal for Electrical and Electronic Engineering, Vol. 17, Issue 2, 2021. DOI: 10.37917/ijeee.17.2.13

58. Mofeed Turky Rashid, H M Hameed, A T Rashid, K A Al Amry, "Constructing the optimal power algorithm for AS/RS systems using multi-mobile robots", IOP Conf. Series: Earth and Environmental Science, Vol. 877, 2021. doi:10.1088/1755-1315/877/1/012014

59. Mofeed Turky Rashid, Farah A. Naser, Hanadi A. Jaber, Basil H. Jasim, "A Sperm-Based Autonomous Micro-Robot: First Step", IFAC-PapersOnLine, Vol. 54, Issue 17, pp. 117-122, 2021. https://doi.org/10.1016/j.ifacol.2021.11.035

60. Mofeed Turky Rashid, Yousif Abdulwahab Kheerallah, Ali Fadhil Marhoon, Abdulmuttalib T. Rashid, "Path Planning of Multi-Robot System Based on Tracking of External Stimuli", Discontinuity, Nonlinearity, and Complexity, Vol. 11, Issue 1, 2022. DOI: 10.5890/DNC.2022.03.002

61. Mofeed Turky Rashid, Anwer Abdulkareem Ali, "Design PI Controller for Tank Level in Industrial Process", Iraqi Journal for Electrical and Electronic Engineering, 2022. DOI: 10.37917/ijeee.18.1.10

62. Mofeed Turky Rashid, Farah A. Naser, "Design and implementation of a swimming robot with pectoral fins only", Robotica, pp. 1-29, 2022. DOI: https://doi.org/10.1017/S0263574722000406

63. Mofeed Turky Rashid, Farah A. Naser, Luigi Fortuna, "Underwater Labriform-Swimming Robot", World Scientific, Topics in Systems Engineering: Volume 1, ISBN: 978-981-123-741-6 (ebook), December 2021, https://doi.org/10.1142/12292

64. Mofeed Turky Rashid, Nabil Jalil Aklo, "Reinforcement Learning Based Energy Storage Units Scheduling Considering Point of Common Coupling Constraint", 2021 3rd International Symposium on Material and Electrical Engineering Conference (ISMEE), 10-11 Nov. 2021. DOI: 10.1109/ISMEE54273.2021.9774197

65. Mofeed Turky Rashid, Hanadi A. Jaber, Hisham Mahmood, Luigi Fortuna, "Incremental Adaptive Gesture Classifier for Upper Limb Prostheses", IEEE Sensors Journal, 2022. DOI: 10.1109/JSEN.2022.3179472

Cultural activities

Place and date

Seminars

April 18-20 2016, Baghdad, IRAQ

Al-Sad1q International Conference on Multidisciplinary in IT and Communication Science and Applications (AIC-MITC) – 2016 (IEEE Sponsored).

December 11-12 2013, Baghdad, Iraq.

National Conference on Information and Communication Technology.

Basrah, Iraq Nov. 30 to Dec. 02, 2010

The 1st International Conference on Energy, Power, and Control

United Kingdom, University of Bristol, 6-10 September 2010

Dynamics Days Europe 2010

April 9-12 2012, Baghdad, IRAQ

ICFCN Conference

26-12-2015

Internet of Things

Awards and thanks and appreciation certificates for the school year

reason

issued by

data

Certificate

Publish papers in journals have impact factor

Ministry of Higher Education

15-4-2012

A certificate of appreciation

Sincerity and concern for the darkening of permanence and regularity

Basrah University / Engineering College

18-11-2012

Thanks And appreciation

Participation in the first conference EPC1-IQ1 by the IEEE Foundation

Basrah University / Engineering College

2010

A certificate of appreciation

Participation in the Internet of Things Symposium

Basrah University / Engineering College

16-12-2015

Thanks And appreciation

Participation in the first conference ICFCN by the IEEE Foundation

Al Nahrain University

2012

A certificate of appreciation

Participation in the National Conference of Information and Communication Technology

Iraqi Commission for Computers and Information

2013

A certificate of appreciation

Efforts in support of the scientific process in college

Iraq University College

2012

Thanks And appreciation

Efforts in exam committees

Shatt Al Arab University College

2015

Thanks And appreciation

Participation in the scientific conference "The Future of Iraq draw and achieve efficiencies and Iraqi experiences."

Shatt Al Arab University College

2016

A certificate of appreciation

Participation in the first conference AIC-MITC by the IEEE Foundation

Al-Sad1q University

2016

A certificate of appreciation

Teaching Experience

Stage

studied

Advanced Robotics

PhD Course

Network

MSc Course

Electronic circuits III

4th year

Electronic circuits II

3rd year

Electrical circuits analysis

2nd year

Principle of computer science

1st year

number

Supervision of postgraduate

4

MSc

5

PhD